Softgel CBD Capsules 25mg Medium Strength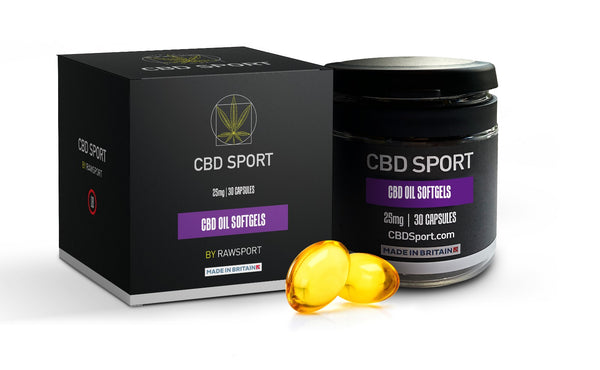 AS SEEN IN.
Servings : 20 (25mg/serving)
Ingredients: MCT oil, CBD, Natural Flavourings, VEGAN and Non GMO.

By swallowing capsules we are using our digestive system to get the CBD into our bloodstream. Therefore, we lose some potency, and it has a delayed effect as it travels through our gut and liver. Our capsules contain only 2 ingredients: cannabis extract and coconut oil. This aids the absorption of CBD in the stomach so you can get the benefit of broad-spectrum cannabinoids.
Our broad-spectrum CBD Capsules are made with organically grown hemp.
Capsules are a convenient, discreet way of taking a measured, predictable dose of naturally occurring cannabinoids.
Our capsules are gluten-free, colourless, and odourless and can be taken on the go!
OUR CBD conforms to WADA Approved CBD, with a ZERO our 0% THC POLICY.
Every batch is tested.
https://www.wada-ama.org/en/content/what-is-prohibited/prohibited-in-competition/cannabinoids
Forbes Magazine
"The ECS has been noted as one of the most important physiologic systems involved in maintaining our health and balance. In 2007 the ECS was discovered to play an important regulatory role in the secretion of hormones related to reproductive functions and response to stress"


The Telegraph
"The numbers of people taking it for more everyday complaints like pain and anxiety are huge; it is clear that people believe in the medicinal effects of CBD enough to spend their hard-earned money on it. In the UK a conservative estimate values the market at £300 million a year. A recent 

study

 says that within five years, sales of CBD will hit $20 billion a year in the US alone."
IMPORTANT INFORMATION
Not suitable for those under 18 years of age, pregnant, breastfeeding or taking medication of any kind. This product is not intended to cure, treat or prevent any kind of disease. If you experience any adverse effects please consult a healthcare professional. May contain traces of nuts.