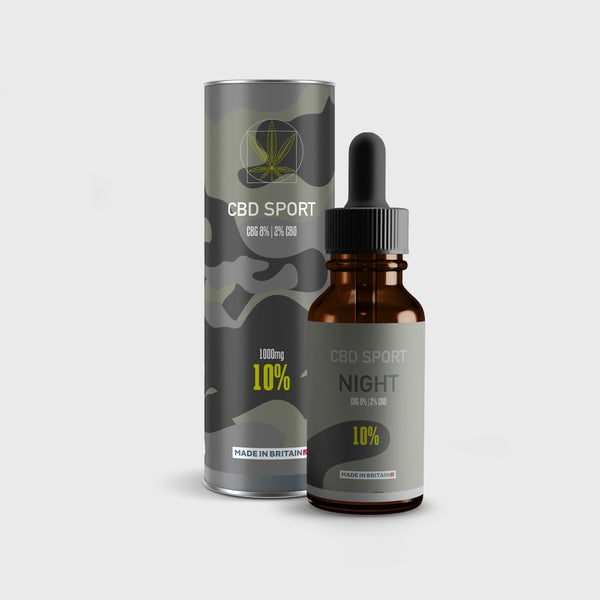 AS SEEN IN.
CBD NIGHT brings two of the superior cannabinoids together in one evening & nighttime product.
Servings : 57 Servings Per Bottle
When to take?
Best taken in the afternoon and before bed. 2 - 3 drops per day.
Bottle Size: 10ml
Take your wellness to the next level with CBG and CBD
CBD Night
Total mg: 10% (1000mg)
CBD mg: 2% (200mg)
CBG mg: 8% (800mg)
Ingredients: MCT oil, CBD, CBG & natural flavourings
Cannabinoids effect the body when isolated in to one single cannabinoid. When cannabinoids are combined this produces an "entourage effect". This means the properties within the cannabinoids work together to increase the effects while promoting their independently unique attributes.
Through research and testing carried out by industry professionals and the manufacturing team here at CBD Sport, we have created the perfect balance of 8% (800mg) of CBG and 2% (200mg) of CBD to maximise your rest and recovery in the evening and whilst you sleep.
As with our CBD, we use advanced CO₂ extraction to isolate and purify our CBG with a ZERO THC GUARANTEE.

Every batch is tested.
Forbes Magazine
"The ECS has been noted as one of the most important physiologic systems involved in maintaining our health and balance. In 2007 the ECS was discovered to play an important regulatory role in the secretion of hormones related to reproductive functions and response to stress"
The Telegraph
"The numbers of people taking it for more everyday complaints like pain and anxiety are huge; it is clear that people believe in the medicinal effects of CBD enough to spend their hard-earned money on it. In the UK a conservative estimate values the market at £300 million a year. A recent 

study

 says that within five years, sales of CBD will hit $20 billion a year in the US alone."
Disclaimer : CBD and CBG are not intended to diagnose, treat, cure or prevent any disease or malady. Our CBD supplements are not medicines, and we advise seeking qualified medical advice